The Mandell Jewish Community Center will celebrate the 26th Annual Hartford Jewish Film Festival with the return of in-person screening of Jewish cinema, featuring contemporary and classic films, March 24-April 10.
Submitted
After nearly two years of movies streaming, the Mandell JCC is thrilled to celebrate the return of in-person viewing for the 26th Annual Hartford Jewish Film Festival. Due to the impact of COVID-19, the 2021 festival was presented exclusively online. The 2022 edition will include both in-person screenings at the Mandell JCC and virtual offerings.
This year's official lineup of 22 films, which opens on Thursday, March 24, 2022 and ends on Sunday, April 10, is a celebration of Jewish cinema, with contemporary films and classic films, taking you back to the "good old days". .
"In-person community events like the film festival have been sorely missed, and we couldn't be more excited to welcome moviegoers back to the Herbert & Evelyn Gilman Theater," said David Jacobs, executive director of the Mandell JCC. "In addition to amazing technology, our HVAC system in the theater was completely replaced with high quality filters, which was an essential and necessary upgrade during the pandemic, providing our customers with the comfort and safety to feel safer when gathering in person.
COVID safety protocols will be followed during the festival, with all people entering the JCC required to present proof of vaccination and masks will be worn in the theatre. "COVID is still here, and the health of our community continues to come first," adds Jacobs.
Returning for a second year as director of the film festival, Jennifer Sharp is delighted to have organized a more traditional film festival. "This year, our festival programming is simply exceptional. We have stories reflecting the human spirit and surviving against the odds, stories of compelling history, documentaries dedicated to the fight against anti-Semitism, and classic films that remind us of times past. Additionally, many of our films will be complemented by a "Reel Talk" program, featuring panelists who help enrich the cinematic experience with background, opinions and interpretations. »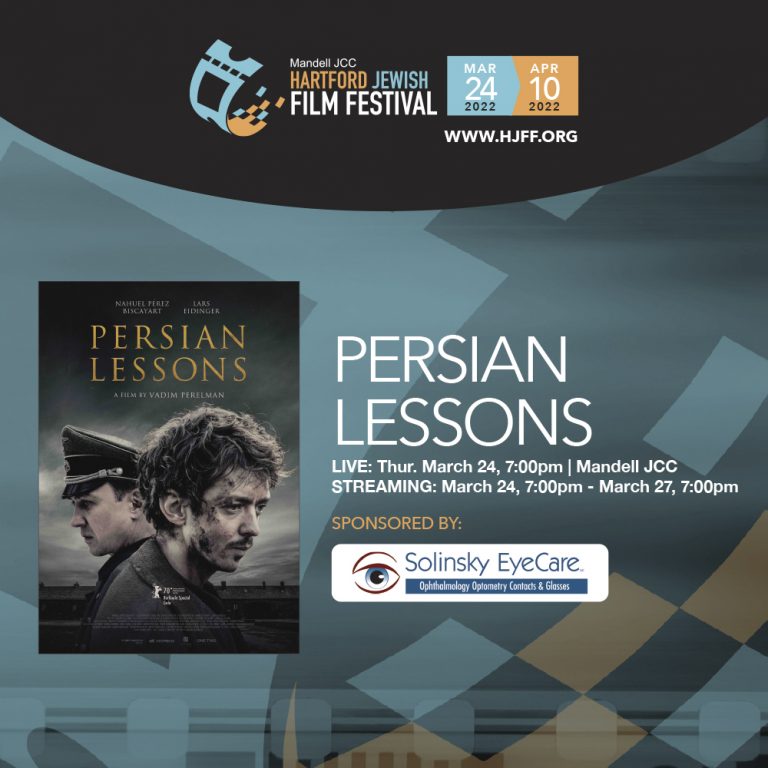 The opening film on March 24, "Persian lessonsis a World War II Holocaust drama inspired by true events, tells a story of survival through the invention of language. Giles, a Jewish prisoner, survives in the camp posing as a Persian non-Jew, then strikes a terrifying, high-stakes deal to teach Farsi to a German officer who dreams of opening a restaurant in Persia (Iran). after the war. To hide his true identity and escape certain death, Giles must invent a whole language to maintain the masquerade.
The top films of the year, featuring REEL Talks, are "Plan A," "out of exile: Fred Stein's photography," "automaton," "blue box," and "A tree of life."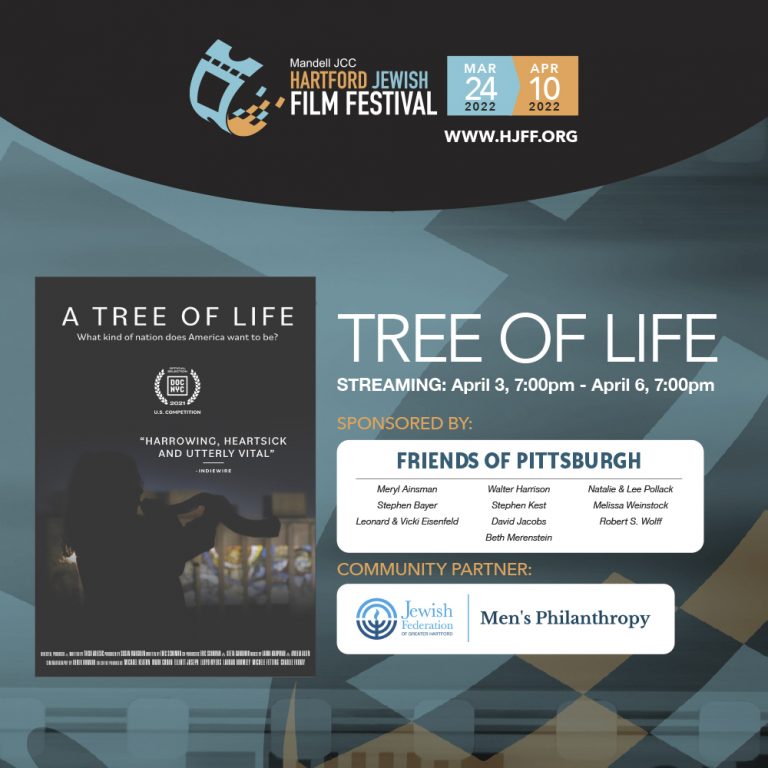 A "Tree of Life" is a documentary about the 2018 shooting at the Tree of Life Synagogue in Pittsburgh, sponsored by "Friends of Pittsburgh", who are West Hartford area residents and Pittsburgh natives. A white supremacist, armed with four semi-automatic assault weapons, entered the synagogue shouting, "All Jews must die." He murdered worshipers as they prayed. His eleven victims were between the ages of 54 and 97. Trish Adlesic, award-winning filmmaker and Pittsburgh native, spent much of the next three years creating a documentary about this horrific event.
This deeply personal story will be followed by a Reel Talk program, featuring Pittsburgh Jewish community leaders Meryl Kirshner Ainsman and Brian Schreiber in conversation with Jody Hirsch.
"Film is truly a powerful tool for giving voice to human experiences with raw, emotional, and sometimes uncomfortable real-life stories," says Jacobs.
In addition to "Tree of Life," the community's commitment to Holocaust education and the fight against anti-Semitism is represented by several documentaries. "IRMIis a deeply personal film directed by a daughter inspired by her mother's story and spirit. It explores how unexpected events and chance encounters can both shape a life and reveal its true nature. Using Irmi's own memoir – beautifully read by actress Hanna Schygulla and with an emotionally rich score by composer Todd Boekelheide, IRMI takes us on her unique journey.
"I'm hereis the touching personal story of Ella Blumenthal, a Polish native who survived the Warsaw Ghetto Uprising and spent five years in the Bergen-Belsen concentration camp. On her 98th birthday, Ella recounts her survival in the Holocaust and the journey that brought her to her present life in South Africa.
Irene Berman, a member of our Jewish community, is interviewed in "Passage to Sweden», a documentary on the efforts of the Scandinavian countries during the Second World War.
In the movie "I love it wasn't», the tragic love story of a young Jewish prisoner in Auschwitz and a Nazi officer is documented.
The program of documentary films selected by the festival committee also includes "The Adventures of Saul Bellowwhich examines Nobel laureate Saul Bellow and his influence on American literature, explores Bellow as a public figure, and examines how he dealt with key issues of his time, including race, gender, and the experience of American Jewish immigrants.
The moving documentary »They ain't ready for metells the story of Tamar Manasseh, an African-American rabbinical student who fights gun violence on Chicago's South Side with a magnetic, self-assured energy through her organization MASK, or Mothers Against Senseless Killings. The film explores the complex identity and motivations of an extraordinary person who is Jewish and Black, and how these intersecting identities offer him a roadmap for dealing with one of America's most pressing crises.
Another timely story shared about the film is "The Levys of Monticello". When Thomas Jefferson died in 1826, he left behind a mountain of personal debt, which forced his heirs to sell his beloved Monticello home and all his possessions. The Levys of Monticello is a documentary film that tells the little-known story of the Levy family, who owned and carefully preserved Monticello for almost a century – far longer than Jefferson or his descendants. The remarkable history of the Levy family also intersects with the rise of anti-Semitism that has unfolded throughout American history.
Winner of several film festival awards, Make trouble celebrates six of the great female comic strip performers of the last century – Molly Picon, Fanny Brice, Hartford's Sophie Tucker, Joan Rivers, Gilda Radner and Wendy Wasserstein.
The award-winning documentary "Passage to Swedenillustrates how ordinary citizens in Sweden, Norway and Denmark worked to save the lives of their fellow Jews when the Nazis closed in.
A new 4K restoration of the beloved film »Hester Street(added to the National Film Registry in 2011), a classic story based on Abraham Cahan's 1896 short story Yekl: A Tale of the New York Ghetto, chronicles the assimilation of an Ashkenazi couple on the Lower East Side of New York.
Molly Picon, the irrepressible queen of Yiddish musical comedy, stars in the classic "Mamele», a comedy melodrama filmed in 1938 in the Polish city of Lodz and digitally restored with new English subtitles. Picon's character – a Jewish Cinderella, a 5-foot, 100-pound bundle of energy – cooks, cleans, is a matchmaker for her siblings, and keeps her underemployed and ungrateful family together with a smile and a song. She doesn't take time for herself until she meets a handsome violinist across the yard.
"Saviors in the nightis a feature-length drama based on the book "Retter in der Nacht," in which Marga Spiegel describes how brave farmers in southern Munster hid her family from the Nazis.
The drama continues when Russian immigrants Emma and Gregory find out it's a small world, with big lies, when they attend dinner at Alon and Yael's house in "dinner."
In "Neighborstwo families on the Turkish-Syrian border have been helping each other for 40 years.
For those who love technology, the festival combines the journey of astronaut Jeffrey Hoffman in "Torah space" with "Tested in the desert», the story of Israel's Susita: the car that a camel would eat.
The curtain will close on the festival with "Wunderkind", a dramatic feature film about three musically gifted children in 1941 Ukraine who become close friends despite their different religions and nationalities, but see their hopes dashed when Germany and Russia go to war.
"We've really missed the face-to-face interaction the last two years," says Jacobs. "As we return to a bit of normality for this long-awaited event, Jennifer and the committee have truly outdone themselves, producing an extraordinary festival that will instill a real sense of community."
There are several ways to screen the films this year. Tickets for individual movies are $12. Twenty films will be available to watch on your phone, tablet, computer or TV. Tickets for the stream will cost $12 per person, $20 for a household (viewing is limited to Connecticut). Customers can also "mix and match," purchase one all-access streaming pass (save 20%) and pick ten (save 10%).
To buy tickets, go to www.hjff.org.
Do you like what you see here? Click here to subscribe to the We-Ha newsletter so you'll always be up to date with what's going on in West Hartford! VSClick the blue button below to become a supporter of We-Ha.com and our efforts to continue producing quality journalism.